This is the travel report of Heleen & Jeroen Juwett during their 3 weeks of backpack traveling through Thailand in October/November 2000 with lots of cultural pictures...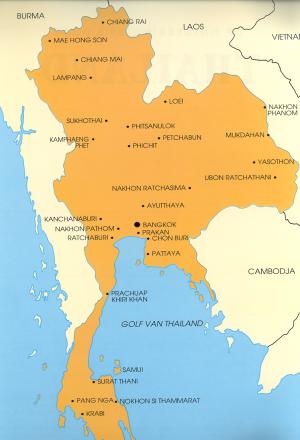 ---
Thailand - Bangkok
Day 1 - Saturday 28/10/00: Departure 15:00 from Amsterdam-Schiphol with China Airlines flight CI-066.
Day 2 - Sunday 29/10/00: Arrival 07:00 at Bangkok International Airport; transfer and check-in Hotel Trang (Banglampoo area), take a shower and change clothes; walking through Bangkok, very hot 32°C and extremely humid; visiting Kao San rd., Sanam Luang, lots of local Wat's (big standing Buddha, big lying Buddha, big sitting Buddha etc.) and undergoing a terrific and bone-breaking Thai massage at Wat Pho; drinking plenty of water and eating great Thai food!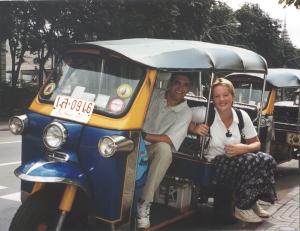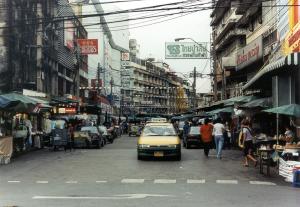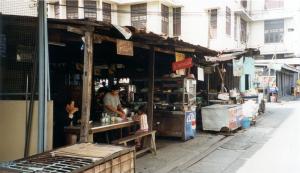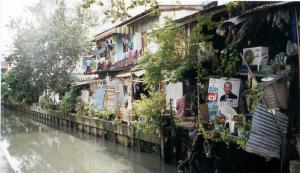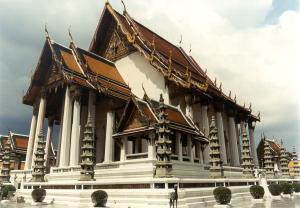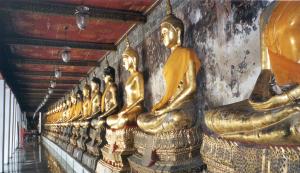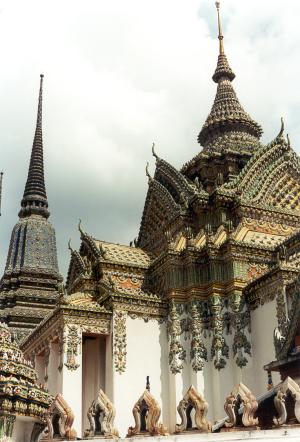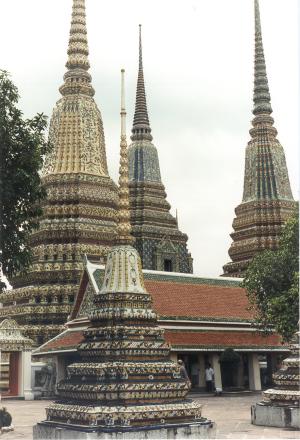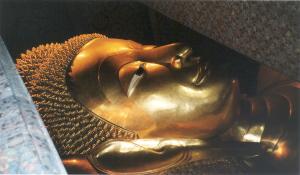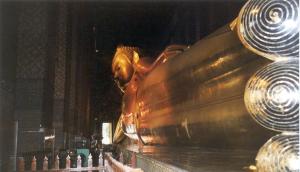 Day 3 - Monday 30/10/00: Walking through little streets ((blind) back-alleys) in Bangkok; visit various Wat's (Wat Ratchanada, Wat Suthat (on a hill)) and visit the Grand Palace during more than 2 hours; cross the canal to visit Wat Arun and talking with a Buddhist monk for more than an hour during a heavy rainstorm. All clothes are already sweaty and dirty, so lots of new shirts have already been bought. Again great food and plenty of water.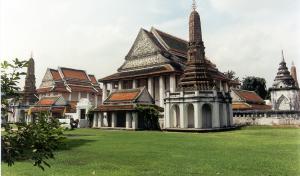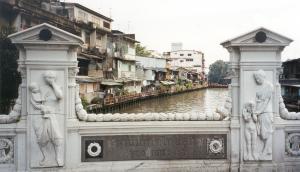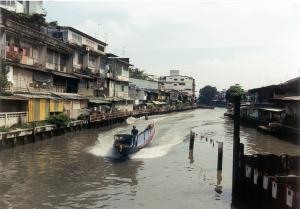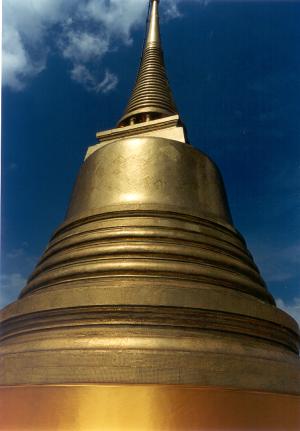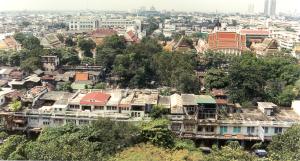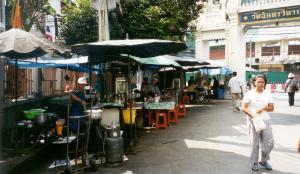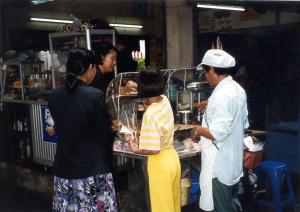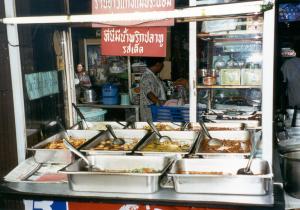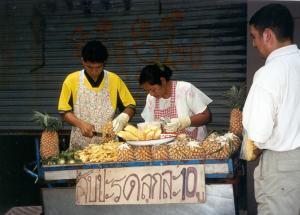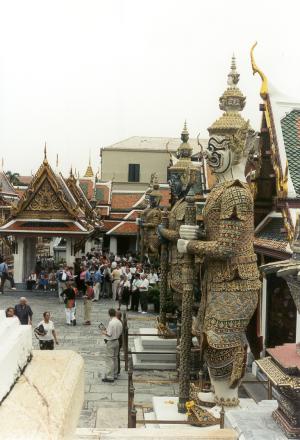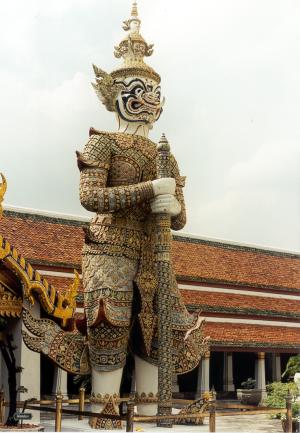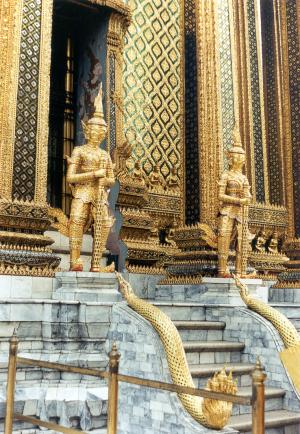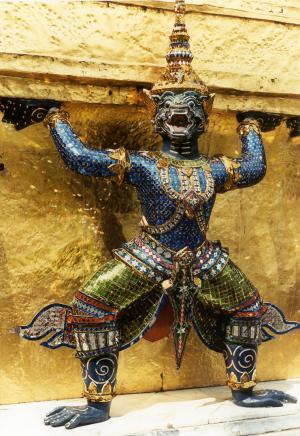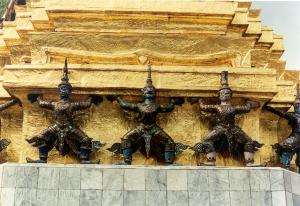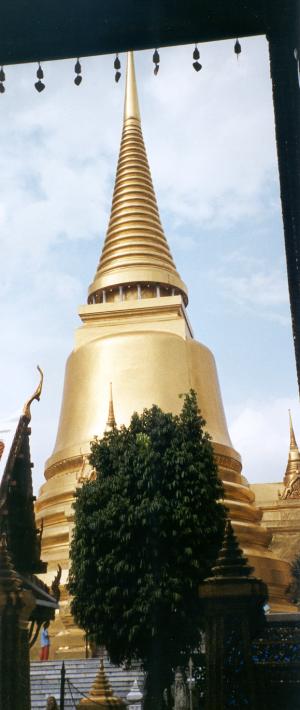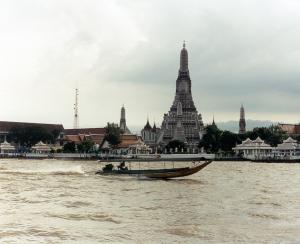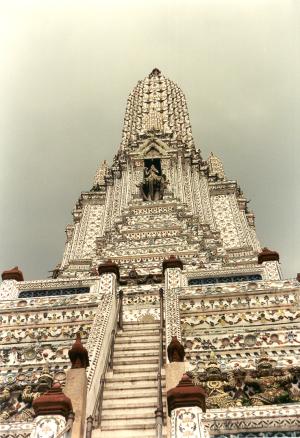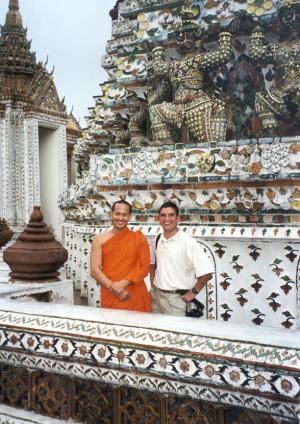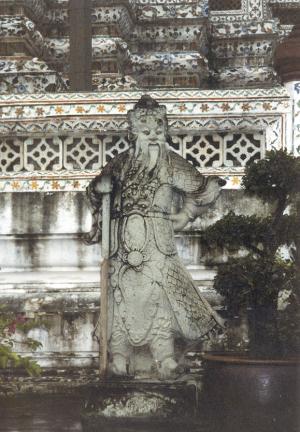 Day 4 - Tuesday 31/10/00: With the local train 09:15 (only Thai people) to Ayutthaya, great interesting ride on the train; at Ayutthaya cross the river and rent bikes; great bicycle riding through the parks of Ayutthaya, a great relief after dirty Bangkok; visiting various old ruines, very nice. In the late afternoon walking through Bangkok-Chinatown (Soi Sumit). In the evening great Halloween festival at Kao San rd. - great fun!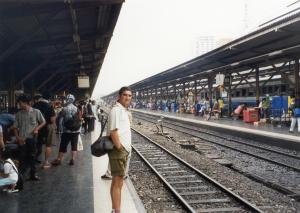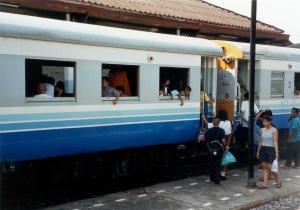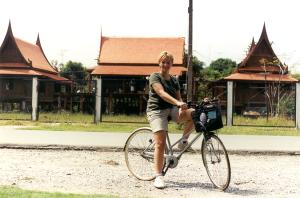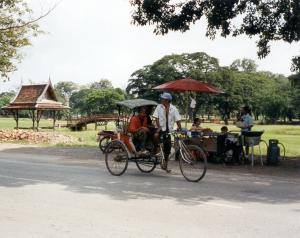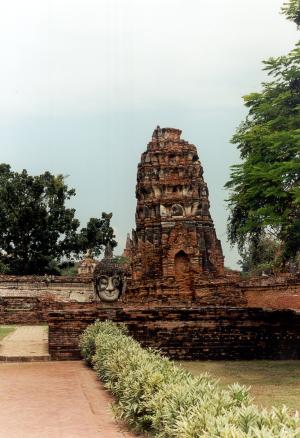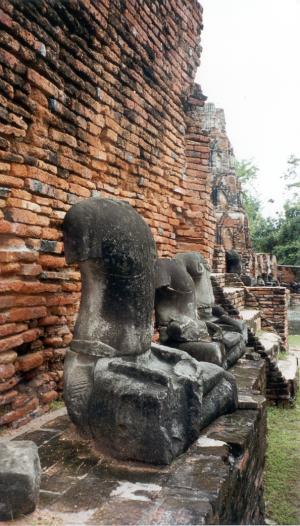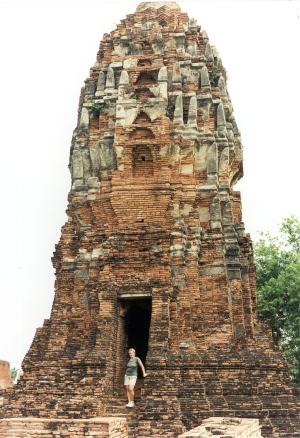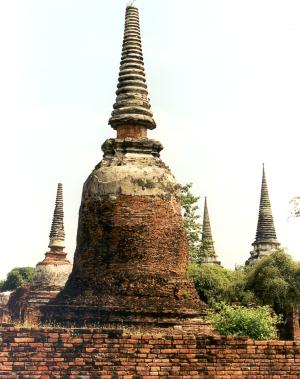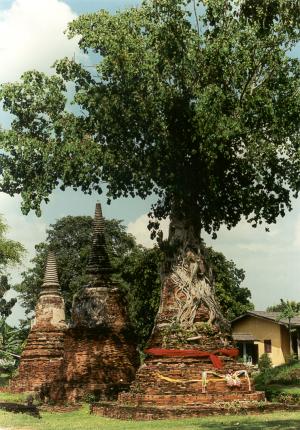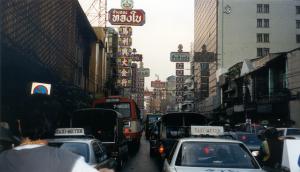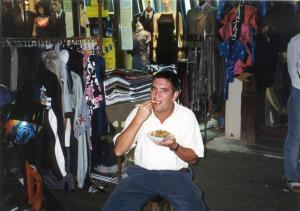 End of the rain season and indeed from now on only clear blue sky and 25°C - 35°C.
Day 5 - Wednesday 1/11/00: River and various klongs excursion with express boats, large longtails (20p) and a very fast short longtail boat (4p). In the afternoon shopping at Kao San rd. and in the evening more shopping at Patpong.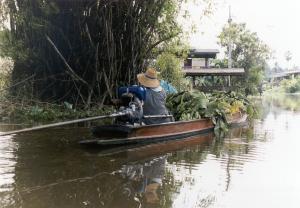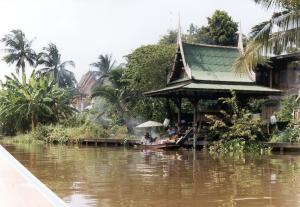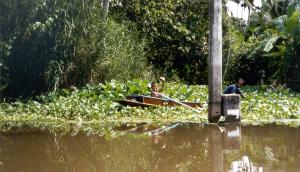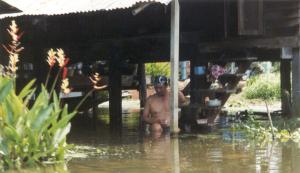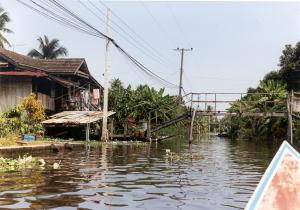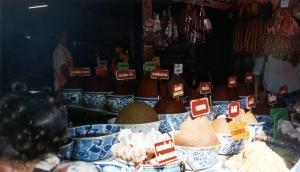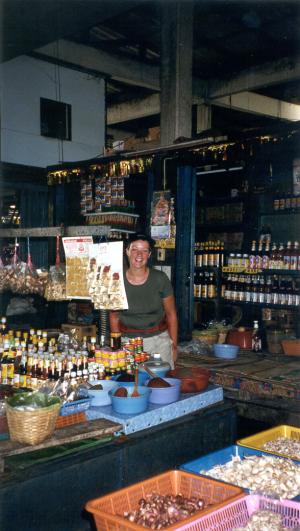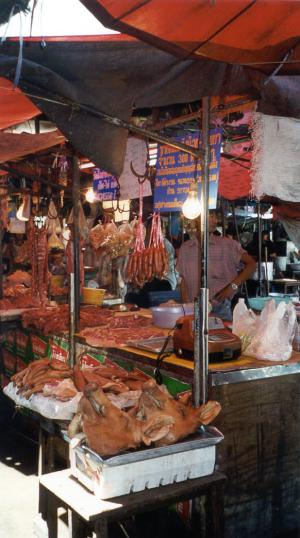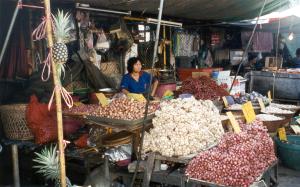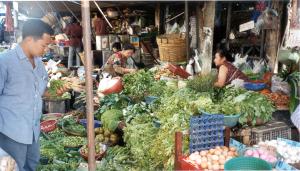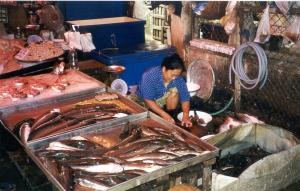 Day 6 - Thursday 2/11/00: Relaxed day with a graduation day at the teak-wood mansion of Rama V; visit various Wat's; local bus to the World Trade Center area for more expensive shopping. In the evening 19:40 the night train (sleeper) to Chiang Mai (14 hours).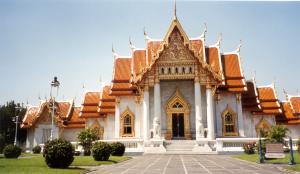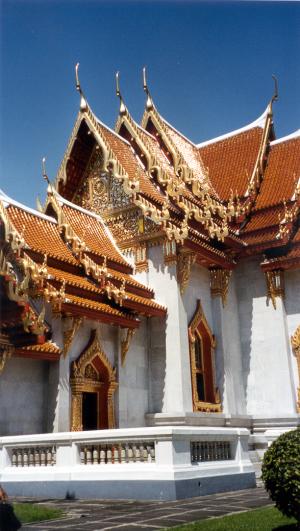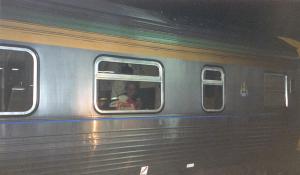 Thailand - Chiang Mai
Day 7 - Friday 3/11/00: Arrival 09:15 at Chiang Mai railway station; transfer and check-in Chatree guesthouse and resting/swimming at the pool (yeah, sometimes a guesthouse can have a pool - only the very expensive ones...); great weather 25°C with clear blue sky. In the afternoon rent two bicycles and touring the town. In the evening more shopping at the Night Bazar. We really love those large backpacks where you can continue stuffing new things!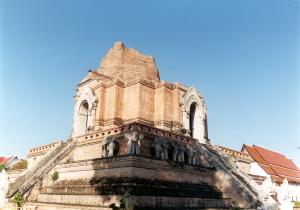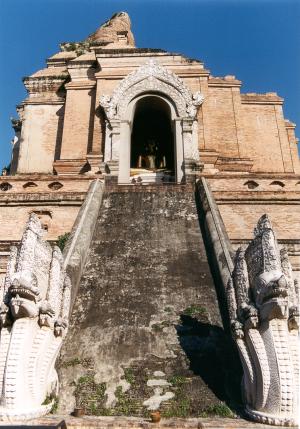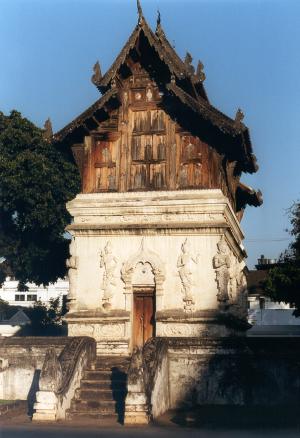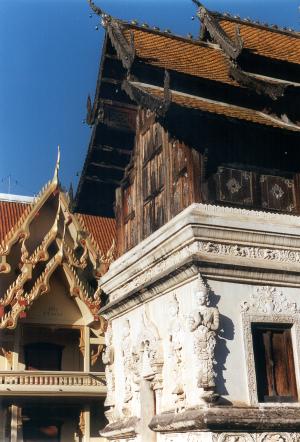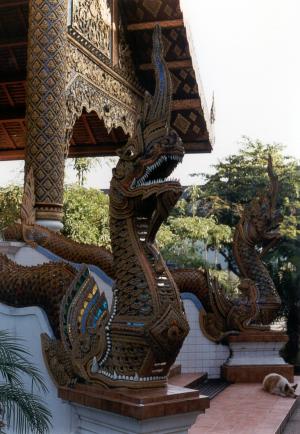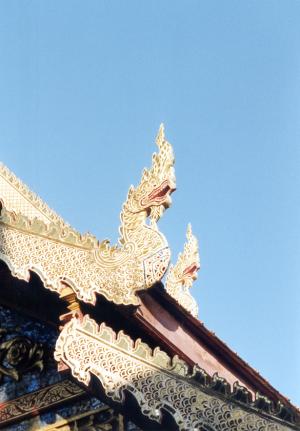 Day 8 - Saturday 4/11/00: A relaxed day with swimming and nice bicycling in town (visit old Wat's). Moving into another guesthouse "Your House" in the backpack area, very clean rooms with bathroom inside. Great food and footmassage in the neighborhood and of course more shopping at the Night Bazar.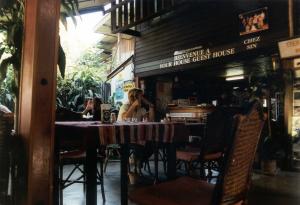 Day 9 - Sunday 5/11/00: One day excursion of jungle elephant ride and bamboo rafting with a very funny female tour guide. A nice relaxed day, meeting very friendly and interesting people and gaining knowledge on people and different cultures. Great Thai food and lots of Chang beer.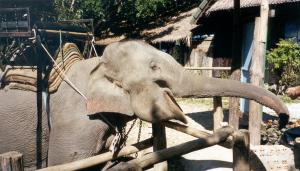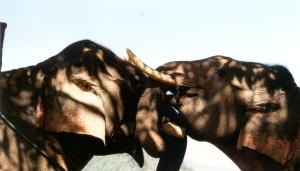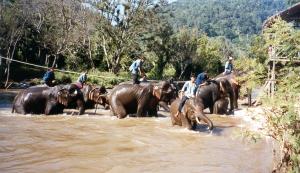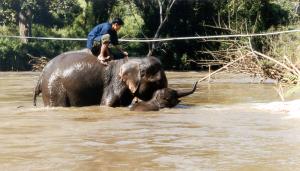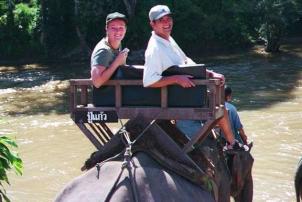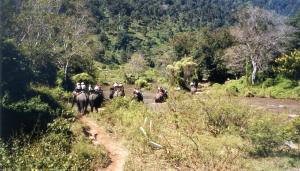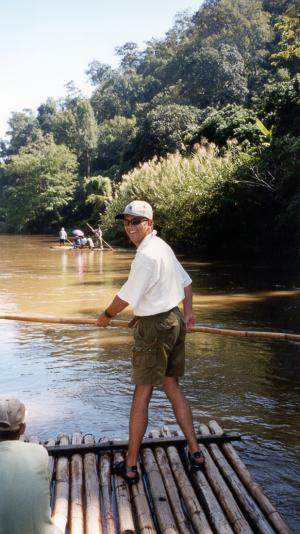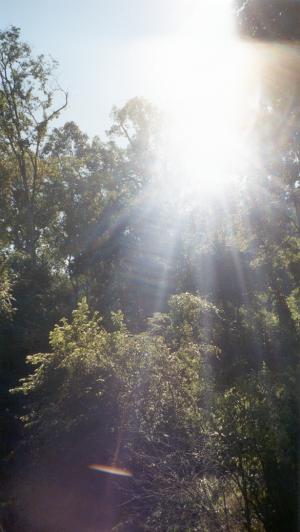 Day 10 - Monday 6/11/00: With a rented motorbike to Wat Suan Dok and up-the-hill to Doi Suthep and the national parc of Doi Pui. In the afternoon relaxing with Chang beers and meeting new friends at the backpack area - reggae café. In the evening more souvenir shopping, great food and nice traditional Thai performances at the Night Bazar.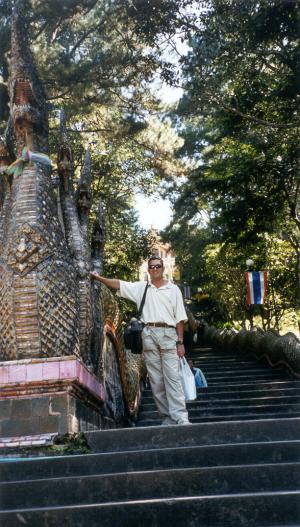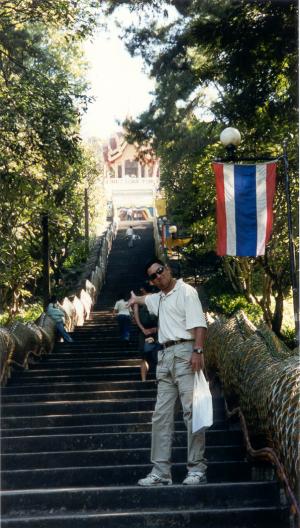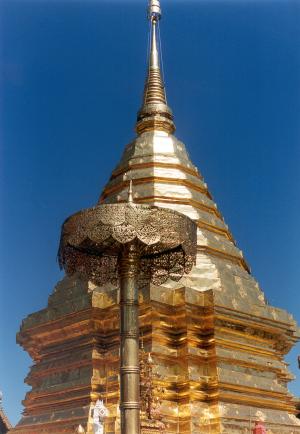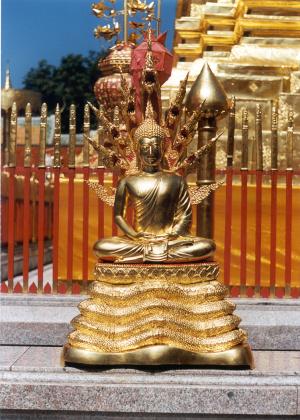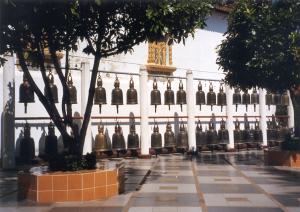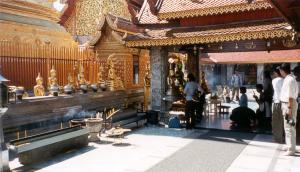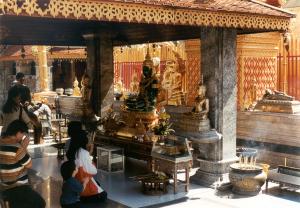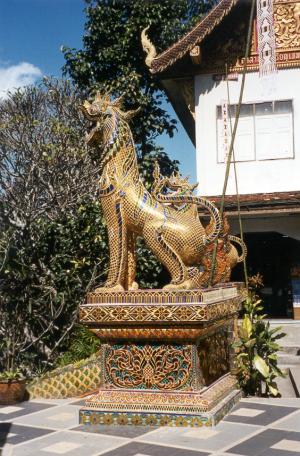 Day 11 - Tuesday 7/11/00: A great motorbike tour (100 km.) into the mountains around Chiang Mai through the Mae Sa valley. A lot of hairpins going up and down the mountains with great forests. In the afternoon spending some (beer) time with international friends at the reggae place. In the evening 20:15 the night-train air-con sprinter (only Thai people) to Bangkok (12½ hours).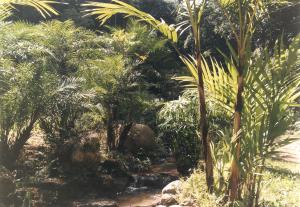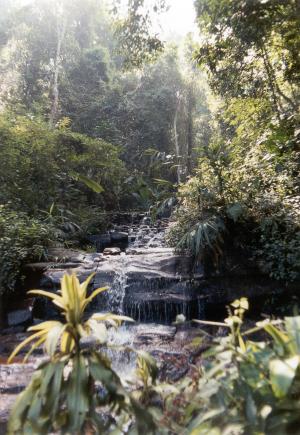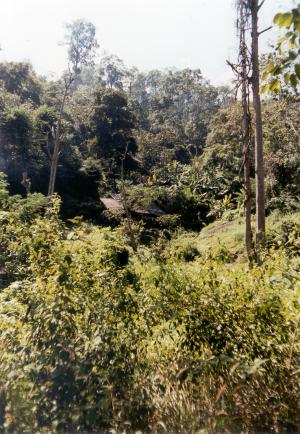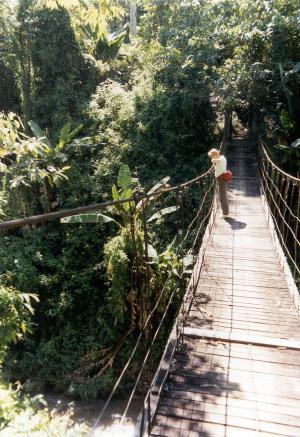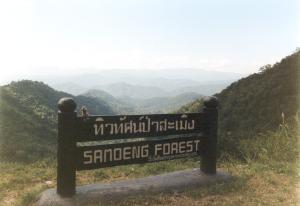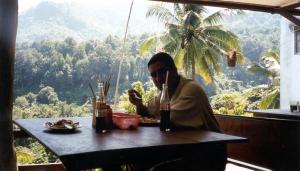 Day 12 - Wednesday 8/11/00: Arrival 08:45 at Bangkok Hualamphong railway station. Taxi to the Southern Bus Terminal to book 2 tickets for the VIP-bus to Phuket. Local bus to Kao San rd.; a relaxing day with shopping, eating and drinking. At 17:15 departure with an old blue government VIP-bus (only Thai people) to Phuket from the Southern Bus Terminal (12 hours). Specific detail: a food stop at 24:00 in a mass food area - all included.
Thailand - Phuket
Day 13 - Thursday 9/11/00: Arrival at 05:00 at Phuket town. After some discussions with taxi drivers and touts, a taxi along beaches to check out the beaches and the guest houses. NaiHarn beach (first choice) was a real dump; with some force at Kata Beach (second choice) a nice clean guesthouse with air-con and bathroom found: Kata Side-walk; only 5 minutes walk from the beach. Little nap, clean up and check out the beach. Great beach with some chairs, (again a nap), relaxing with nice clear water and great breakers. However, everything is much, much more expensive at Phuket island, even the food and drinks.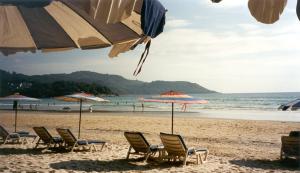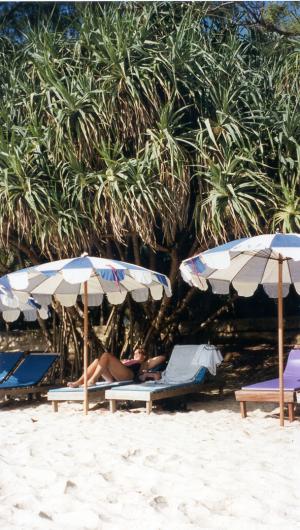 Day 14 - Friday 10/11/00: Relaxing at Kata beach with lots of great snorkling and playing in the breakers, getting a tan. Beautiful colored fish in the almost dead coral between Kata beach and the island opposite the beach. In the evening strolling through Kata and along the beach (high-tide).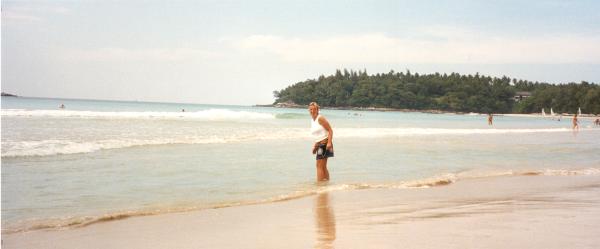 Day 15 - Saturday 11/11/00: With a rented motorbike driving across the island, finding a nice isolated beach. Relaxing at a nice small beach (Surin beach), getting a tan. In the evening the Loy Kratong festival at Karon beach. A religious gathering where people float self-made boats of banana leafs with flowers, incense, a candle and a piece of hair for personal relief of worries and troubles and hopes for the future.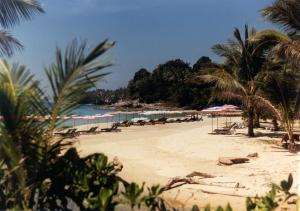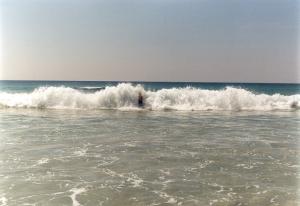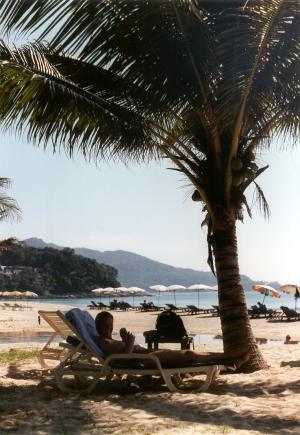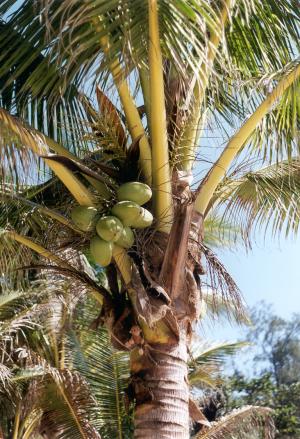 Thailand - Ko Lanta
Day 16 - Sunday 12/11/00: Departure at 07:15 from Phuket to Ko Phi Phi with an old crowded and rusted ferry. Ko Phi Phi is a very beautiful island with very nice private beaches; HOWEVER it's a complete tourist trap where there's nothing authentic left at all. In the afternoon the ferry to Ko Lanta (escape from Ko Phi Phi), an island which isn't cultivated yet and looks like Phuket almost 15 years ago. A little bit getting used to, after the cultivated parts of Thailand. No real roads, only dirt and poverty all around. After checking out some huts, the choice was made for the Dream Team in the southern part of the island. A small bamboo hut at a total isolated place near the beach with the jungle behind us. A great choice with good food and very nice and friendly people.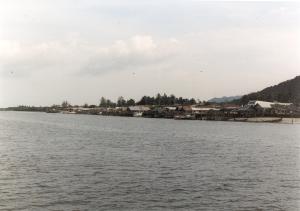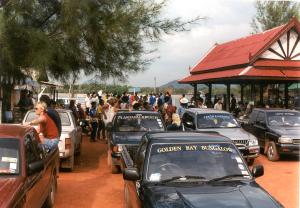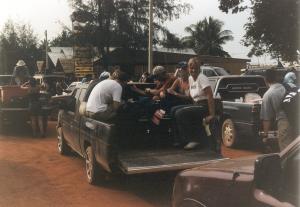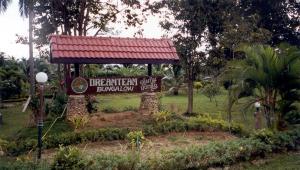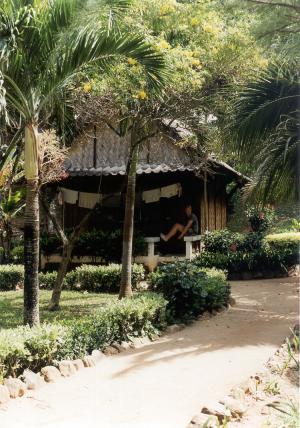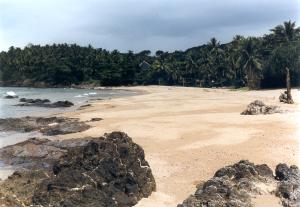 Day 17 - Monday 13/11/00: Snorkling excursion (06:15) on an old and rusty boat around the southern islands of Ko Lanta. The coral is however rather dead and only the last island had some coral with great snorkling and beautiful fish. At Ko Muk a cave could be entered by swimming in the dark; inside a nice lagoon with steep cliffs was found. Great!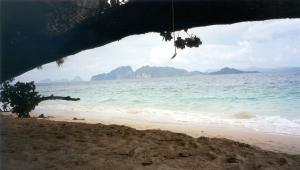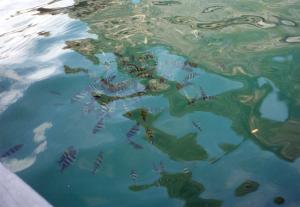 Day 18 - Tuesday 14/11/00: An adventurous day of hiking to the Tiger cave. A "dangerous" personal guided hike through a very wet and compact jungle where wet slippery rocks, leeches and other bugs made it impossible to continue. Great experience though. In the evening relaxing at the beach with Pina Colada cocktails and watching the sunset in hammocks.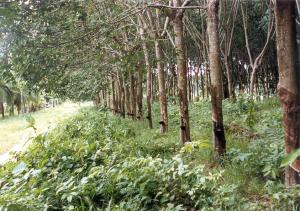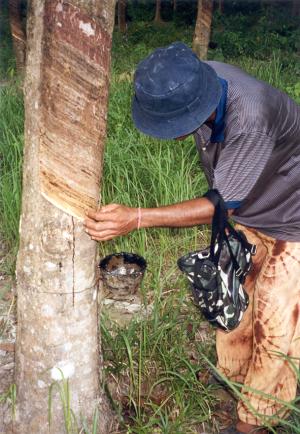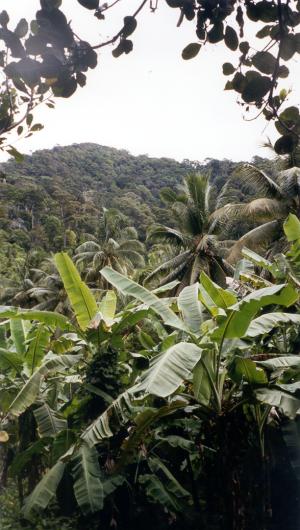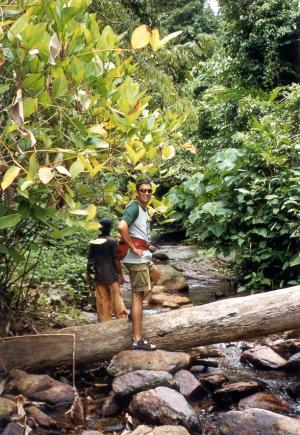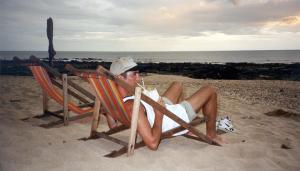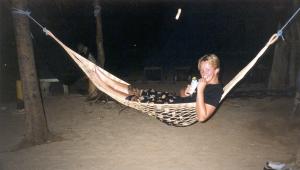 Thailand - Krabi
Day 19 - Wednesday 15/11/00: Departure at 06:00 - boat to Krabi. Check in at the City Hotel and walking through Krabi. With a rented longtail visit to the Mangroves and a great cave (the number one cave!) at Krabi. In the evening visit at the Night Bazar which isn't much.
Day 20 - Thursday 16/11/00: Relaxing at the local Italian: Firenze. Great cappuccino and ciabatta's. In the afternoon 16:00 departure for Bangkok with a nice private tour VIP-bus with only backpackers. Via Surat Thani and some other stops in 14 hours to Bangkok.
Thailand - Bangkok
Day 21 - Friday 17/11/00: Arrival 06:00 at Bangkok near Kao San rd.; check in at a guesthouse CH II-House for a day-room; taking a nap for a couple of hours. Relaxing at Kao San rd. and some shopping. In the evening 21:00 "impossible" transfer to the airport, check in for the flight CI-065 from Bangkok to Amsterdam. Departure 02:30 (12 hours).
Day 22 - Saturday 18/11/00: Touch down 08:35 at Amsterdam Schiphol; with the train to Deventer, arrival 11:15 at home.
---