This is the travel report of Heleen & Jeroen Juwett during their 5 weeks of traveling through Utah, Arizona, Nevada, Montana and Idaho in April/May 1997 in a Chevrolet Blazer V6.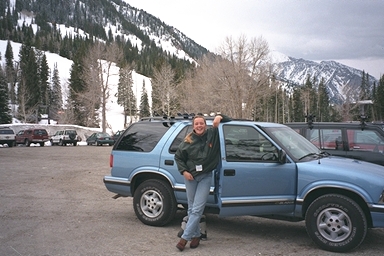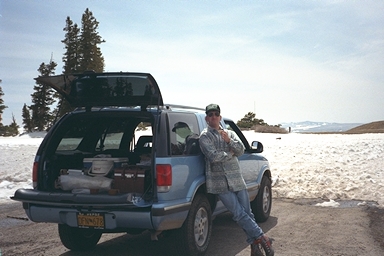 Day 1 - Sun 27/04/97: Flight (Business class) Delta Airlines to New York and Salt Lake City
The flight to Atlanta was overbooked, so we get business class to NY. However our luggage is lost in the transition and comes in a few days later in SLC.
Day 2 - Mon 28/04/97: Visit to Salt Lake City
The first few days, we stay at friends residence in SLC. They show us around in SLC with it's temple square, the library, the malls and our favorite fast-food Wendy's.
Day 3 - Tue 29/04/97: A day in the life of a SLC family
We follow the family during a normal day of the week and still are trying to overcome the jet-lag.
Day 4 - Wed 30/04/97: The Chevy Blazer and Snowbird
We can pick up the Chevy Blazer and take it with two pairs of borrowed ski's to Snowbird. We have a lot of fun skiing down-hill a couple of times. In the evening we visit the Buzz (the SLC local baseball team).
Day 5 - Thu 1/05/97: SR-71 Blackbird at Hill Airforce museum in Ogden
We enjoy riding the Chevy. Today a visit to the Hill Airforce museum in Ogden is planned. The SR-71 Blackbird is present there, as is the giant B-52. We visit Salt Lake and friends in Bountiful. At night we overlook SLC at Ensign Peak.
Day 6 - Fri 2/05/97: Museums and shopping
A day of shopping, visiting museums and a visit to Park City and the outlet stores.
Day 7 - Sat 3/05/97: The journey to the South begins...
We load the Chevy with all kinds of camping equipment: sleeping beds, coolbox, watertank, axes, food and drinks and drive South. The temperature increases from 12º C to 24º C when we reach Cedar Breaks.
We drive up the mountain into the snow. The road is blocked with snow, so we have to turn back. We follow the I-15 to visit the ghost town of Silver Reef. In the afternoon we arrive in St.George at a friends place. In the evening we drive through SnowCanyon, a very beautiful place, which we must visit a next time more thoroughly.
Day 8 - Sun 4/05/97: Zion National Parc
Early breakfast. We put on our hiking boots, fill the water bottles and start hiking in Zion National Parc: Lower Pool trail, Narrows, Weeping Rock trail, Hidden Canyon trail etc. In the evening we drive into Las Vegas for a quick visit in the casino's.
Day 9 - Mon 5/05/97: Zion National Parc --> Kanab
We drive through Zion and take the Canyon Overlook trail, starting right after the tunnel. In the afternoon we drive along to Kanab and settle down at a camping. There's really no one there and we want to visit the North rim of the Grand Canyon. However, it seems that there's still some snow and the North rim is still closed until May 15th. Bummer! We enjoy our stay at the campsite and roast marshmellows.
Day 10 - Tue 6/05/97: Grand Canyon
An early breakfast at 07:00 again. It's a long drive (300 km - 4 hours) to the South rim of the Grand Canyon, but it's all worth it. There's a forest fire so the air is foggy. The photo's are not as sharp as they normally would be. After a few hours we continue our drive to Lake Powell. It's a spectacular site. We settle down at the camping in Page.
Day 11 - Wed 7/05/97: Lake Powell
A relaxing day with a visit to the Glen Canyon dam and swimming and sunning in Lake Powell.
Day 12 - Thu 8/05/97: Hiking the Paria river
A very unknown and oh so spectacular hike is the Paria river. We enter the dry bedding of the river and hike for hours until we reach the high small canyon where the river initiates. There's no one on the entire hike and we feel alone on the world. When we are back at the car it starts raining. We are very lucky - a few hours earlier and the hike would be dangerous. We continue our drive to Kenab and on to Bryce Canyon. We settle at the camping ground in Bryce canyon. We watch the beautiful sunset. It will be a very cold night.
Day 13 - Fri 9/05/97: Bryce Canyon
A terrible cold night and very early we jump in the car, put on the heating and drive to Sunset point. It's amazing. We start the hike down into the red rocks - Queens garden trail and Navajo loop trail, where the temperature quickly rises. Soon we are taking of layers of clothing. In the afternoon we continue our drive to Escalante. We stay there in a nice wooden cabin, take a hot shower and do some laundry.
Day 14 - Sat 10/05/97: Hike Calf Creek falls
A great day for hiking! Optimistic we take our swimclothes with us when we hike to the Calf Creek falls. The water is so freezing cold, that you can only put your feet in it for a few seconds. Well, it's a nice picture, though. In the afternoon we continue our journey to Capitor Reef and settle down at the campground surrounded by deer.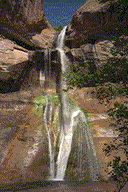 Day 15 - Sun 11/05/97: Canyonlands, the Needles
We continue our drive to National Bridges, Church and Newspaper Rock and settle down at the campground near the Needles. It's and impressive site. Large needle rocks reaching for the sky and with no electric lights in the neighborhood a clear sky with zillion stars. We are almost alone at the campsite, there's no light and just the universe around us.
Day 16 - Mon 12/05/97: Moab
A relaxing day at the campsite near Moab. It has a swimming pool and it's pretty hot today. In the early evening we drive into the mountains of Castle Valley, where we even can touch the snow.
Day 17 - Tue 13/05/97: Moab
Early reveille (07:00). We want to hike the Corona and Bowtie Arch-trail in the early morning when there's not so much heat. It's a great and unknown hike (even better than the ones we will hike in Arches). We drive into Canyonlands and admire the impressive Dead Horse point and Upheaval dome. Great views and a mystery the real story sure is.
Day 18 - Wed 14/05/97: Moab
Early reveille again. We want to visit Arches before it's crowded with visitors. We hike to the Delicate arch, visit Double arch, Landscape arch and so on. Afterwards we drive to Green River and settle at a campground with swimming pool.
Day 19 - Thu 15/05/97: Salt Lake City again
We arrive in Salt Lake City and are invited to stay with some friends for a couple of days. Cleaning our camp/hike stuff and enjoying the cinema and the friendly company of the family we are staying at..
Day 20 - Fri 16/05/97: Salt Lake City
A day of shopping at Target's near Bountiful, Park City and downtown SLC. In the evening we visit a musical.
Day 21 - Sat 17/05/97: Playing golf...
It's a great day for playing golf. We drive to Nordic Valley (a small Switzerland kind of place). The girls are going to mountainbike down-hill, where the man are playing golf. The weather changes rapidly and within a few minutes we must run in heavy rain and stormy weather. Wet to the bones we put the golf bags in the car and go searching for the girls. At a cafe/bar we'll find them, they are dry and we drink a hot chocolate. So much for playing golf. After changing at the house, we have diner at Sizzlers.
Day 22 - Sun 18/05/97: ...
We bicycle a bit in the neighborhood and visit the grave yards. It's a very relaxing day.
Day 23 - Mon 19/05/97: ...
With four girls we take a hike up-waterfall near Ogden. It's fun and very wet. In the afternoon Dale and Jeroen are playing golf at the Bountiful golfclub. It's great golfing over there.
Day 24 - Tue 20/05/97: ...
Heleen's birthday. We do some shopping and both families surprise Heleen with all kinds of festivities.
Day 25 - Wed 21/05/97: The journey continues
Finally we take off in the direction of Yellowstone. We rest at Bear lake where we eat some carrotcake leftovers from yesterday. We drive through Montana and Wyoming. The road is blocked by a sheriff, there has been a landslide. We must make a detour via the Keaton pass. Very dangerous with all the rain and landslides. We are happy to drive a 4WD. In the late afternoon we arrive at Jackson. A typical winterplace. We walk around, eat some and visit the shops. Then we continue to drive into the Grand Teton parc. It's a very beautiful and quiet parc. Lot's of green, water, mountains and animal life. The campsites are closed until Saturday (opening season) and the South entrance to Yellowstone has just been opened. It's the only open entrance with 10 feet of snow border walls. We visit Grand Teton and decide to sleep in the car at a parking place. It's very late when we put the blankets on ourselves. It will be a lousy night.
Day 26 - Thu 22/05/97: Yellowstone
It's an early morning when we wake up at 05:30. We slept well!
We drive into a foggy Yellowstone at about 07:00 and the sun just rises. It's spectacular. There's no one! Only some deer and 'bizons'. At 10:00 the sun clears up the sky and the beautiful scenery enfolds. We walk to the Old Faithful, Castle geyser, Morning Glory pool etc. The smell is definitely Yellowstone-only. It's an amazing site. We camp at Norris campground.
Day 27 - Fri 23/05/97: Yellowstone
No bears last night. It's rainy and we put all our stuff in the car. We visit the Mammot Hotsprings and the Yellowstone falls. However, because the winter is just ending all the water melts and the rivers are coming outside their boundaries. There are some roadblocks and detours in Yellowstones, so we decide to leave with all our wet stuff in the back of the car. We stay in a motel, just near Yellowstone in Rexburg Idaho (West entrance).
Day 28 - Sat 24/05/97: back to SLC
We drive back to Salt Lake City. Clean up our stuff and have a great diner at a Chinese restaurant.
Day 27 - Fri 23/05/97 until
Day 33 - Thu 29/05/97
The last days visiting all kinds of things before flying home on the 29th. We arrive on Friday 30th in the Netherlands. A 34 day tour through mainly Utah and it's fantastic parcs.